MTC's excellent reputation has been earned through its ability to train delegates in a diverse array of subjects including Desktop applications, IT Technical, Leadership, Business Administration & Project Management.
By offering a mix of virtual and classroom experiences, they can also adapt to the needs of employees and employers to achieve the best results possible.
Through the North East Workforce Skills Project*, we can support delegates through a holistic suite of provision and funded workshops. Eligible courses include Desktop Applications, Technical /Infrastructure IT, Leadership, Business Administration, Customer Service and Functional Skills Maths & English.
MTC's blended learning approach of classroom and virtual delivery, in addition to 1 to 1 support and assessment, allows us to provide essential means for employers to develop their workforce.
*subject to eligibility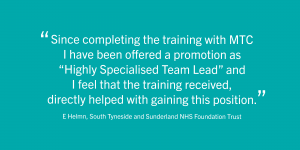 Desktop Applications and Power BI
Business and Professional Workshops
Our full course portfolio can be viewed on our website www.mtc-training.co.uk to find out which courses can be accessed via North East Workforce skills ESF Funding contact our team for a full brochure.
Email: sales@mtc-training.co.uk
Call: Michelle Francis 07748 334860 or Matt McMahon 07811 716 853